Don't forget to check out the Read of the Week –Demo #3
and here is what else that was waiting for me at my Comic Shop.
THE FLASH: SECRET FILES and ORIGINS 2010 #1

DC
Story: Geoff Johns
Art: Scott Kolins and Francis Manapul
Not a must read, if you know your Flash mythology, but a great primer for new readers, or folks not up to speed (if you'll forgive the pun) on Barry Allen. A little background, a little house cleaning, lots of "Flash Facts". Some nice pin ups (Abra Kadabra, Dr. Alchemy, Iris) Some not so nice (Grodd). But on a whole a nice preview of what is to come – art and storywise. One thing is for sure, the DC is pretty crowded with speedsters these days, and I am worried that my personal favorite, Wally West, is going to be cast off to the side without a feature somewhere. Must trust in Geoff – he has a plan! Right? Please?
Grade B+

BATMAN AND ROBIN #11
DC
Story: Grant Morrison
Art: Andy Clarke and Scott Hanna
Batman vs. Robin continues as yet another cover screams "THE RETURN OF BRUCE WAYNE STARTS HERE!" Things do start to reveal themselves, but nothing can be taken quite as it seems. Because that's just the way Grant Morrison works. he's crazy like that. This has been the most consistently enjoyable book since "Batman Reborn" began almost a year (!?!) ago. What does the Return of BW herald for the team of Damian and Dick? I guess I will be here for the ride to find out.
Grade B+
DOOM PATROL #9
DC
Story: Keith Giffin
Art: Matthew Clark and Ron Randall
Keith Giffen shows he's no slouch in the storytelling department either (DC has almost as many great writers as it does Speedsters it seems) as he continues to cherry pick the best of the Doom Patrol' long history while creating an all new classic DP title. I will miss the Metal Men back up on this title. hoping that they turn up somewhere soon
Grade B

THE GREAT TEN #6 (of 10)

DC
Story: Tony Bedard
Art: Scott McDaniel and Andy Owens
The story behind the Great Ten's femme fatale, the Ghost Fox Hunter is revealed as Hong Kong's underworld and the Taiwanese government are revealed to have connections to the return of China's old "Gods". I have been wondering if one off the residents of Oolong Island might have something to do with this sudden arrival of ancient divinity.
Grade B+

CINDERELLA: FROM FABLETOWN WITH LOVE #6 (of 6)

DC/Vertigo
Story: Chris Roberson
Art: Shawn McManus
The clock finally strikes 12 for Cindy's miniseries. But here's hoping it will not take long for Fabletown's resident superspy to get back out into the cold. it was a great ride-along. lots of action, a dash of magic, some clever wordplay and hot spy on spy action. everything we have come to expect from growing up watching Sean Connery
Grade A-

IN THE SPOTLIGHT –
JSA ALL STARS #5
DC
Story: Matt Sturges
Art: Freddie Williams II
SECOND FEATURE: LIBERTY BELLE & HOURMAN
Story: Jen Van Meter
Art: Travis Moore & Dan Green
Can it be? Am I really starting to like this team better than the old timers in the JSA? is this book more enjoyable now that Magog is out of the picture? have they even made King Chimera a sympathetic character? What is it that Atom Smasher wanted to warn Stargirl about? Will Jessica wake from her coma before Chester is taken away by aliens? Will anyone get that "Soap" reference? Tune in next month!
Grade B+






Random Pick Up of the Week
AVENGERS THE ORIGIN #1 (of 5)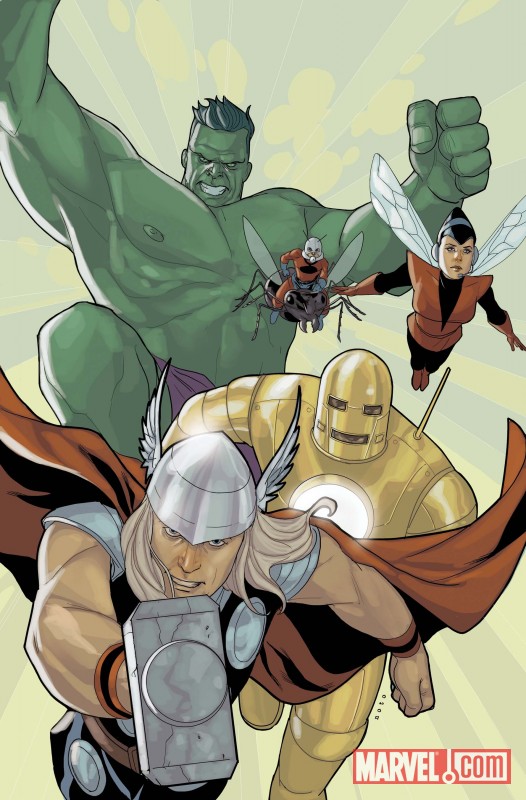 Marvel
Story: Joe Casey
Art: Phil Noto
Yes good readers, I've ventured to the other side of the comic rack and have picked up the first issue of the latest retelling of the Marvel Universe's premiere Superteam. Now I am vaguely familiar with the original story, and it does seem that they are sticking with it, just updating the time frame. But Phil Noto is handling the art chores here, and it looks fan-fraking-tastic.
Grade B
There ya have it, now get ye to your Local Comic Shop.